21 Aug 2017, 11:53 am Tokyo
Transportation
Flight Access
Narita International Airport (with three terminals) and Tokyo International Airport (Haneda) (the international terminal) together handle all major carriers, providing great access for visitors from around the globe. Together these airports serve as a key hub to the region as well. Narita offers over 1, 450 international flights every week, connecting to 106 cities around the world and has opened a dedicated low-cost carrier (LCC) terminal in line with efforts to further enhance convenience. Meanwhile, Haneda provides over 600 international flights weekly, serving 27 cities across the globe, and has begun 24-hour operation. The number of international flights of both airports is expected to continue to increase. Haneda Airport is also convenient after arrival and can be reached by train in just around 10 minutes from the Shinagawa and Hamamatsucho hub stations. When including ordinary trains, there is one train departure and arrival every five minutes.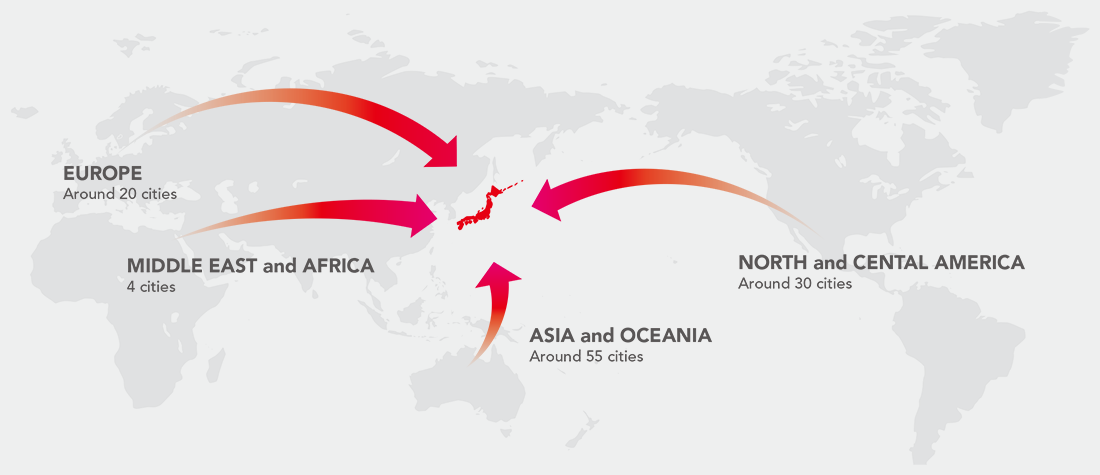 Flight Times to Tokyo
North America

(JST)

Flight Time

Chicago

(-15)

13:00

Dallas

(-15)

13:00

Los Angeles

(-17)

11:35

New York

(-14)

14:00

San Francisco

(-17)

10:45

Vancouver

(-17)

9:40
Europe

(JST)

Flight Time

Amsterdam

(-8)

10:50

Frankfurt

(-8)

11:10 (Haneda)

London

(-9)

11:40 (Haneda)

Milan

(-8)

11:50

Moscow

(-6)

9:35

Paris

(-8)

11:50 (Haneda)
Asia and Oceania

(JST)

Flight Time

Bangkok

(-2)

6:10

Beijing

(-1)

3:30

Hong Kong

(-1)

4:10 (Haneda)

Jakarta

(-2)

7:30

Kuala Lumpur

(-1)

7:00

Seoul

(0)

2:05 (Haneda)

Shanghai

(-1)

2:20

Singapore

(-1)

7:00 (Haneda)

Sydney

(+1)

9:50 (Haneda)

Taipei

(-1)

3:00 (Haneda)
Middle East

(JST)

Flight Time

Abu Dhabi

(-5)

10:10

Dubai

(-5)

9:30 (Haneda)
Notes:
To and from the Airports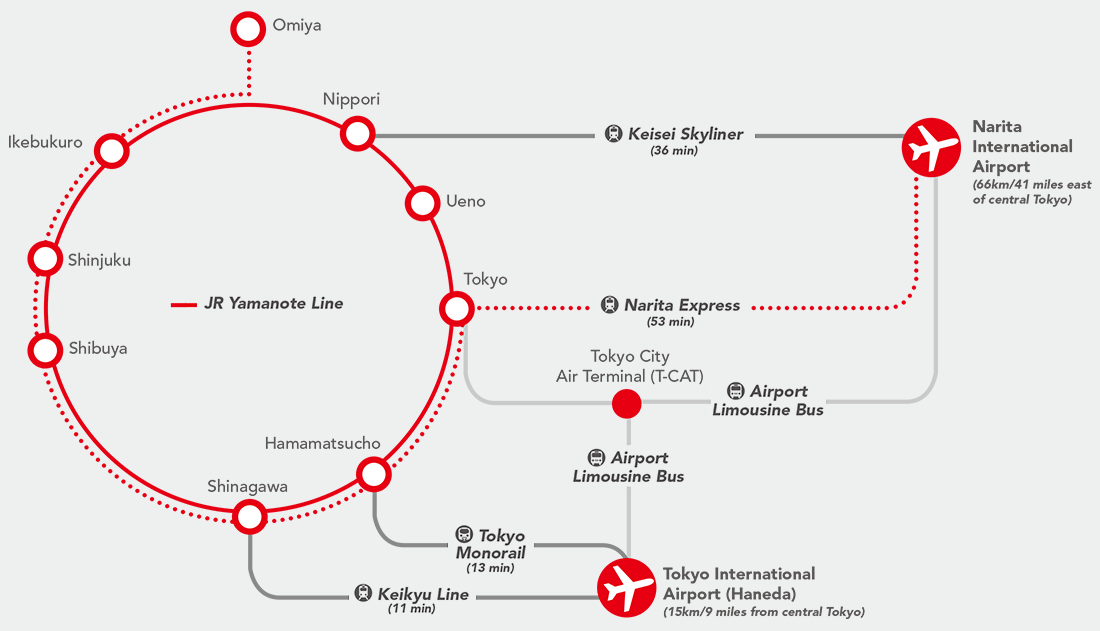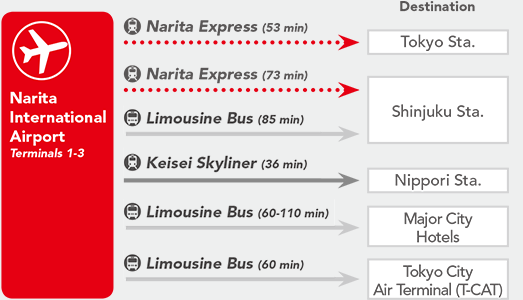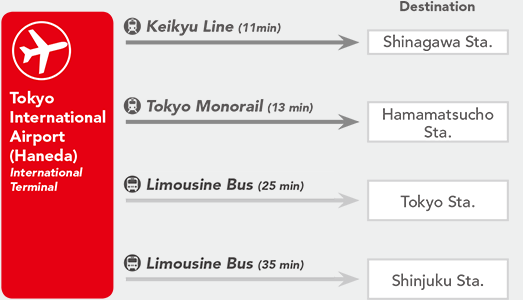 Transportation in and around Tokyo
Overview-
A network of train lines run by JR East Japan and the subway lines of Tokyo Metro and Toei link stations that are located near hotels, convention venues and around districts for shopping, dining, cultural enrichment and leisure activities. International symbols and signage are available in English, Korean and Chinese at the stations. Train timetables are located on the platforms and are very reliable since the trains in Tokyo run on time.
Taxis-
In central Tokyo, taxis are a convenient way to get around town. At train stations, hotels and convention venues, passengers can board taxis that are lined up at designated spots. At the corner of an intersection or along a busy street, you can hail an approaching taxi by raising your hand.
Shinkansen –
All six lines depart from Tokyo Station, and certain bullet trains also stop at Shinagawa Station and Ueno Station. The Hokuriku Shinkansen that connects Tokyo, Toyama and Kanazawa opened in March 2015, making access from the Tokyo metropolitan area much more convenient. Passengers also can reach such northern destinations as Aomori, Akita, Yamagata and more; head west to Kyoto (approx. 140 trains a day), etc.; and to the south, including Hakata on Kyushu island. Niigata along the Japan Sea and Nagano in the central Highlands (known as the Roof of Japan) are a few of the many other popular destinations served by the bullet trains. Here's a sample of how convenient it is to reach other major cities from Tokyo by Shinkansen – Sendai (1:40); Nagano (1:30); Kanazawa (2:30); Kyoto (2:18, Nozomi); and Osaka (2:33, Nozomi).
Go to top of page