World Ophthalmology Congress 2014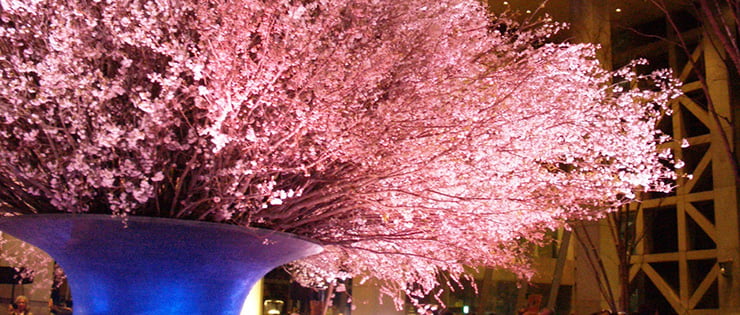 Date: 2-6 April, 2014
Venue: Tokyo International Forum, Imperial Hotel Tokyo and Tokyo Big Sight
Attendance: approx. 20,000
The World Ophthalmology Congress 2014 (WOC2014) was held in conjunction with the 29th Asia-Pacific Academy of Ophthalmology (APAO2014) and the 118th Annual Meeting of the Japanese Ophthalmological Society (118th JOC). The approximately 20,000 attendees recorded the largest-ever international conference held in the capital city — and the biggest medical conference in Japan to date.
Some 9,000 guests from overseas were given a hearty welcome in Tokyo as they participated in the WOC2014, APAO2014 and 118th JOC from April 2-6.
Another milestone was the first time ever for the facilities at the Tokyo International Forum and Imperial Hotel Tokyo to be almost entirely dedicated to this global event.
The social programs revealed the special and unique qualities of Tokyo. The Opening Reception, for example, was held in the Plaza at the Tokyo International Forum under blossoming cherry trees arranged exclusively for the reception, complemented by the open-air food stalls. Guests were surrounded by the season's glowing beauty.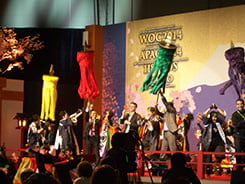 Another sterling example of a fine Tokyo tradition was Japan Night held at Tokyo Big Sight near the bay. The sights and sounds of Japanese traditional arts performances made the evening a truly festive occasion. The high-spirited festival dance and music originating from various regions of Japan inspired guests to join in, some even dancing on stage.
It was truly a united effort by all concerned as citizens, private business and public authorities all worked together to host the meetings. One of the most noticeable welcoming features was the street-side flags designed exclusively for WOC2014, and sponsored by the Tokyo Metropolitan Government. The city government developed 16 courses from which to choose that showcased Tokyo's famous sightseeing locations. A program consisting of an additional six courses delivered Japanese Cultural Experiences— attracting more than 1,000 overseas guests.