26th International Ornithological Congress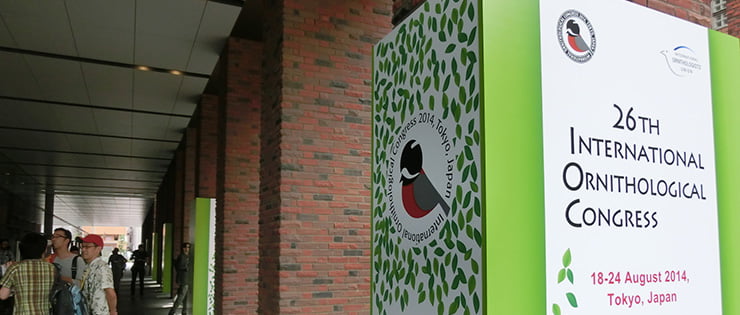 Date: 18-24 August, 2014
Venue: Rikkyo University
Attendance: 1,000
The 26th International Ornithological Congress (IOC 2014) was held from 18-24 August, at Rikkyo University in Tokyo. The Congress was held in Japan for the first time in its 130 year history.
"I am very happy that we could finally hold our Congress in Japan. The Congress was very well organized and was a unique and welcome opportunity for Japanese scientists to showcase their outstanding research to the international community of ornithology. I have already started telling people around me what a wonderful time I am having here, and also, that there is no need to feel anxious about coming to Japan to attend a Congress, because it is easier to travel around than first-time visitors all expect."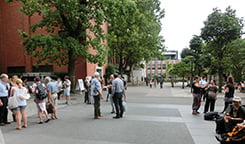 The Congress counted more than 1,000 attendees of which 700 were from overseas. Professional ornithologists as well as amateurs and students from 64 countries gathered to discuss various areas of avian biology and related studies, and the Congress especially attracted young students from Japan. The Congress became a memorable opportunity for young Japanese researchers to learn, interact and network with leading ornithologists from around the globe.
Tokyo, known for one of the largest city centers in the world, with high sky scrapers and modern buildings, has more natural settings than one might expect. The 100 city parks in Tokyo, as well as the mountains and islands in day-trip traveling distance provided many bird-watching opportunities for the Congress attendees. Over 300 delegates took part in the mid-congress tour to the nearby areas including Mount Fuji. Moreover, many delegates extended their stay in Japan to visit the Tokyo islands such as the Kozushima and the Miyakejima islands, where unique birds could be observed. The fact that Tokyo is a perfect setting for bird-watching was one of the distinct reasons why the International Ornithologists' Union (IOU) selected Tokyo for this Congress. Some Congress participants also took the opportunity to travel in Japan to experience Japanese hospitality and culture before or after the Congress.
To show a sincere welcome to IOC and add on to the extensive range of scientific programs during the 7 day Congress, the Tokyo Metropolitan Government and Tokyo Convention & Visitors Bureau provided Congress flags in the surrounding shopping streets from the nearby train station to the venue, as well as City Information desks at airports and on-site. The City government also developed a choice of 6 complimentary sightseeing tours to some of the popular sightseeing spots in Tokyo, such as the TOKYO SKYTREE® and the Tokyo National Museum. There also were four cultural programs of dressing in kimono and Japanese woodblock prints, attracting many first time visitors to Japan. A total of 290 delegates participated in the tours and cultural programs.
Dr. Dominique G. Homberger, Secretary of IOU, has been involved since 2008 in selecting Tokyo as the host city for IOC 2014. She was convinced and always has been confident that the Tokyo Congress would be a success, and admits that she has become a "Japan Enthusiast" ever since that first site visit.