Reception in a traditional Japanese atmosphere – a sumo stadium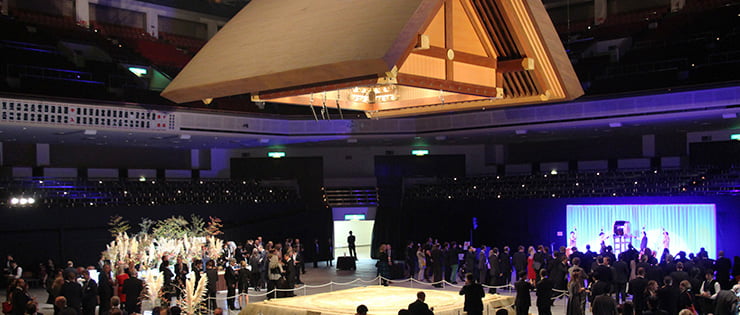 Event Name: White & Case Annual IBA Cocktail Reception
Event Organizer: Into Japan Specialist Tours (Oxford International Exchange)
Date: 21 October, 2014
Venue: Ryogoku Kokugikan Sumo Stadium
Attendance: 984
During the Annual Conference of the International Bar Association (IBA) 2014 in Tokyo, many social events hosted by private law firms took place around the City, and one of the most unique and unforgettable experiences that the IBA delegates might have had was the networking party at the Ryogoku Kokugikan Sumo Stadium, located in the downtown area of Tokyo. A global law firm, White & Case chose the uniquely Japanese venue to entertain their distinguished guests and business partners.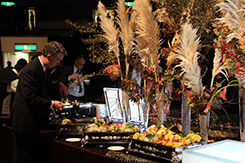 A total of 984 guests enjoyed the reception held in the vast sumo stadium, where the sumo ring (dohyo), and the turret outside atop which drums are played during sumo competitions (yagura) as well as portraits of past tournament winners were displayed.
The guests were treated to 10 different varieties of sake as well as sushi made on the spot by five chefs. "Chanko-nabe," a traditional stew pot that sumo wrestlers usually have as regular meals, as well as "yakitori" grilled chicken were served at individual free-standing stalls called "yatai," a popular entertainment of a Japanese festival. Also, ample dishes were prepared for the vegetarian guests, accounting for 20% of the total cuisine.
To appreciate the history, culture, and the sport of sumo, the guests were taken on special scheduled "back-stage" tours of the Sumo Stadium as well as the Sumo Museum located within the venue. The popularity exceeded the host's expectations, with over 400 guests participating in the tour.
A local Tokyo Convention & Visitors Bureau (TCVB) partner, Into Japan Specialist Tours handled all the planning, preparation and operation to make this reception an extremely successful event.