Japanese History and Samurai Challenge the IT Industry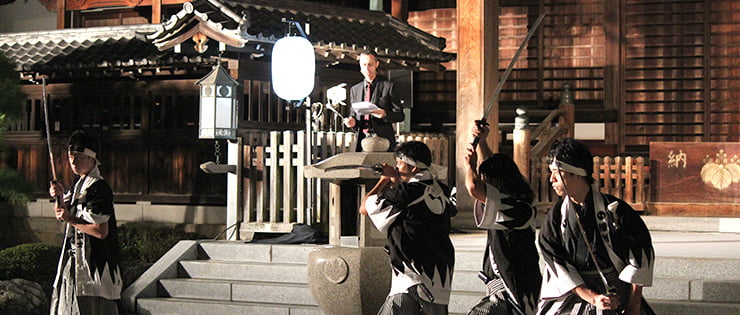 Event Name: A private hospitality event during OpenStack Summit October 2015 Tokyo
Date: October, 2015
Attendance: 280
Tokyo welcomed the OpenStack Summit – a four-day conference for developers, users, and administrators of OpenStack Cloud Software. With the preparation jointly facilitated by Tokyo Metropolitan Government and Tokyo Convention & Visitors Bureau, Hewlett Packard Enterprise, one of the Summit's main sponsors as well as participants, organized during the conference period a private hospitality event in a beautiful temple, inviting 280 company key-members and VIP guests.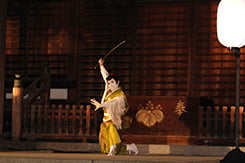 The tailor-made remarkable program at the authentic unique venue was organized featuring Japanese history and Samurai. One of the operational organizers, Mr. Marc Sheldon, Managing Director of Quaack Services Pty (Australia) commented, "Our intention was to provide the participants with the cultural challenge rather than just entertainment. The participants were impressed by the performance such as ATSUMORI*, showing the authentic part of Japan. Personally, I was also impressed. It was absolutely amazing. I had seen it on video, however, it was completely different to see the live performance in the temple grounds".
The Noh play, the Shishi-lion dance performance, calligraphy demonstration by a well-known artist Ms. Biho Yamauchi, Koto harp and Shakuhachi flute musical duo and the narration by a famous radio DJ Mr. Chris Glenn, an expert on Samurai History and Culture of Japan, were perfectly harmonized reflecting the organizer's idea about this hospitality event. Between the performances, guests enjoyed mingling and taking photos with Samurai actors illustrating some historical moments of Japan.
The other operational organizer, Mr. Yann de Seze, Managing Director of Maya & Co (France), summarized his impression as follows: "I was very impressed by the quality of today's event produced, especially by local teams and I appreciate their efforts. This beautiful, welcoming and authentic place, Tokyo, is the best place to be and it is exactly what I was expecting."
*Atsumori – a Japanese Noh play featuring Taira no Atsumori, a young samurai who was killed in the Genpei War, and his killer, Kumagai Naozane.