In person meetings are coming back - successful completion of ACTA 2021 TOKYO
From October 15 to October 17, the 7th Asian Conference on Tumor Ablation (ACTA 2021 TOKYO) was successfully held at the Kioi Conference in Tokyo.
ACTA is an annual conference for medical specialists from the Asian region to update their knowledge and share experiences in ablation techniques, such as radiofrequency ablation (RFA), microwave ablation (MWA), and cryoablation.
Initially planned to take place in 2020, ACTA was once canceled due to the pandemic. This year's conference was held in a hybrid format under the theme "Lead the World" and intended to remind all participants of ablation's role in the future medical care and the position ACTA holds in the international community.
On the first day of the conference, we interviewed the Chairman of ACTA 2021 TOKYO, Dr. Shuichiro Shiina, professor of the Department of Gastroenterology at Juntendo University, to hear about the highlights of the conference.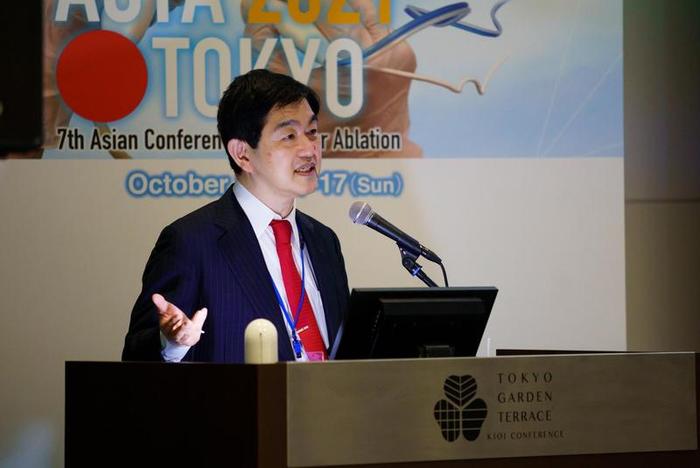 -  How many specialists are participating in this year's event?
This March, we expected about 300 overseas and 200 domestic participants. However, the pandemic status was not looking very good globally, and we were seeing fewer registration numbers than we had anticipated, not only from abroad but also domestically. In October, with the state of emergency lifted in Tokyo and the number of newly infected people significantly decreasing, we started seeing a considerable increase in registrations for in-person participation. Today, many experts are here at the venue from all over Japan. I have participated in many hybrid conferences after the Covid-19 outbreak, but this is the first time I have seen this many people gather in-person onsite. Since it is a weekend tomorrow and Sunday, we expect more people to come, and I suppose the numbers will exceed 250 onsite* and over 300 people will attend online. We set a unified in-person and online registration fee, which may be one of the reasons why the number of in-person delegates has increased.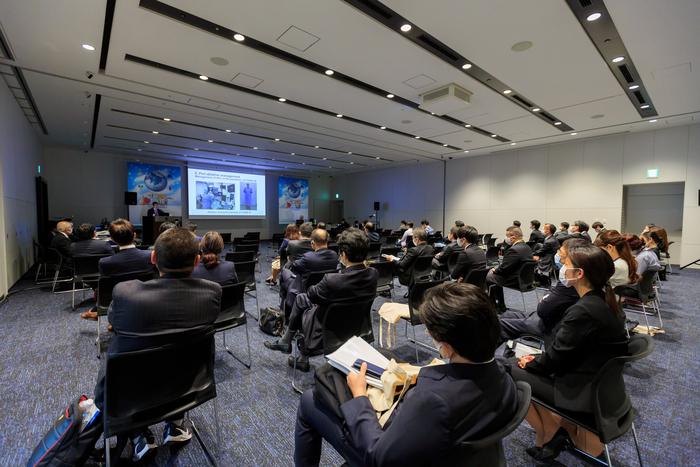 -  Is there any other reason for the increased number of delegates?
On top of the unified registration fee, we kept this year's registration fee considerably low. Most of the participating countries are from the East Asian region; by lowering the registration fee, we tried to make more participation from Asian countries possible. We also worked very enthusiastically on the program to raise the participants' interest and included several attractive sessions such as the Joint Symposium and the Asian Forum. Furthermore, considering the time difference for online participants, we tried to organize live sessions to consist of presenters from neighboring countries as much as possible. We believe that these measures have led to an increase in participants, which delighted us.
In hosting ACTA 2021 TOKYO, I applied for subsidy support from the Tokyo Metropolitan Government. The number of participants on site determines the subsidy amount, so I am happy that people have gathered at the venue. We highly appreciate this support which significantly contributes to the successful management of the conference.
-  How do you see the advantages and disadvantages of the hybrid format?
The advantage of a hybrid event is that anyone can easily participate online. For hard-working specialists, it saves time for travel and accommodation. The hybrid format also makes it possible to stream pre-recorded presentations.
On the other hand, the ease of participation can also be a disadvantage. Just before the conference opening, one of the chairpersons requested to resign from the position. I consulted with many specialists and finally managed to find his substitute one day before the session. There are 84 local and overseas chairpersons this time, and there have been multiple changes. Suppose a delegate has come to Japan to participate in person. In that case, even if something occurs, this person will probably continue his conference duties on-site, not returning to his country. On the contrary, when the participation is online, they are more likely to resign or cancel the presentation at the last minute due to their responsibilities in their home country. Therefore, the probability of declining online participation is higher.
I believe there will be more in-person meetings in the future, but the hybrid format will also stay. Thus, we need to prepare for such unanticipated situations.
-  A sustainable approach is an essential component of conferences nowadays. What kind of efforts did you make this time?
We are trying to reduce food loss as much as possible. Lunch is served in lunch boxes, and we made sure to reconfirm in-person participation to order only the numbers needed. We also decided to cancel coffee breaks. One of the reasons was to avoid creating crowded places when participants get in a line for coffee, and the other reason was to cover the expenses of holding the conference in a hybrid format.
We created the proceedings in a digital format and kept the printed version low to reduce paper consumption as much as possible.
- Please tell us about your views on future meetings and academic activities.
Asia has the world's largest population with the highest prevalence of liver cancer. Thus, this region has the highest number of doctors who perform ablation procedures, meaning it is the world's largest market, exceeding North America and Europe. Asia is the birthplace of ablation, and it has been leading the world in terms of techniques and experience. To evolve and promote this position, I believe that networking and knowledge exchange with overseas experts during international conferences are essential. Hosting ACTA 2021 TOKYO, I feel that there is a clear sign that in-person meetings are coming back. We will continue to organize conferences, seminars, and other gatherings to advance ablation research further globally.
*Five hundred twenty-two participants (275 in-person and 247 online) attended ACTA2021.