New Initiatives towards Zero Waste Events by Sustainable Event Network (SEN)
During the COVID-19 pandemic, the significance of in-person events has come under the spotlight, and MICE event organizers are looking for methods to help the industry recover. The demand for sustainable events is also rapidly increasing. Rather than returning to traditional MICE events, the current trend is to build a new approach that incorporates sustainability.
In this vein, EcoPro 2021 was held at Tokyo Big Sight for three days, from 8 to 10 December 2021. EcoPro is an exhibition showcasing environmentally friendly products and services organized by Sustainable Management Promotion Organization (SuMPO) and Nikkei Inc. This year was the twenty-third time the event was held, and it attracted 54,885 visitors.
Sustainable Event Network (SEN) exhibited at EcoPro. As an example of a new approach to business events, we interviewed their representatives about their efforts to achieve zero waste at exhibitions.
-  What is the current situation regarding waste disposal at event exhibitions?
Current business events lead to a lot of waste disposal and CO2 emissions. Our research shows that an incentive event with 1,000 participants produces approximately 2,285.6kg of waste and 100.71 tons of CO2 emissions. This is the same amount of CO2 that 7,100 trees will absorb from the atmosphere in one year.
The organizers of a sustainability-themed exhibition like EcoPro need to be environmentally conscious. In our discussions with the organizers, we found that many of them were aware of the issues with exhibition booths being built and then destroyed, resulting in waste. They were willing to look for solutions to improve the situation. This issue applies to all events in the business events industry.
-  What solutions did SEN propose at the EcoPro exhibition?
To meet this challenge head-on, SEN designed a zero-waste exhibition booth. We also adopted the concept of the circular economy, which is an approach to eliminate waste by radically changing the event from the booth design stage. In addition, we only used recycled materials in the design of our exhibition booth.
To achieve the goal of zero waste, we incorporated the following methods:
- No needle punch carpets
Punched carpets are the second most disposed of item at events, after wood. Although they are made from recycled plastic, they are usually thrown away after one use. Event organizers recognize that the use of synthetic carpets is so ingrained and normalized that they only think about changing the color and never the material used. However, if you think outside the box from the perspective of "reduce," there is a more sustainable alternative.
We did not use punched carpets in our exhibition booth. Although the floor of Tokyo Big Sight is concrete, it is kept very clean, so visitors were completely unaware that there was no carpet. We were surprised by this outcome.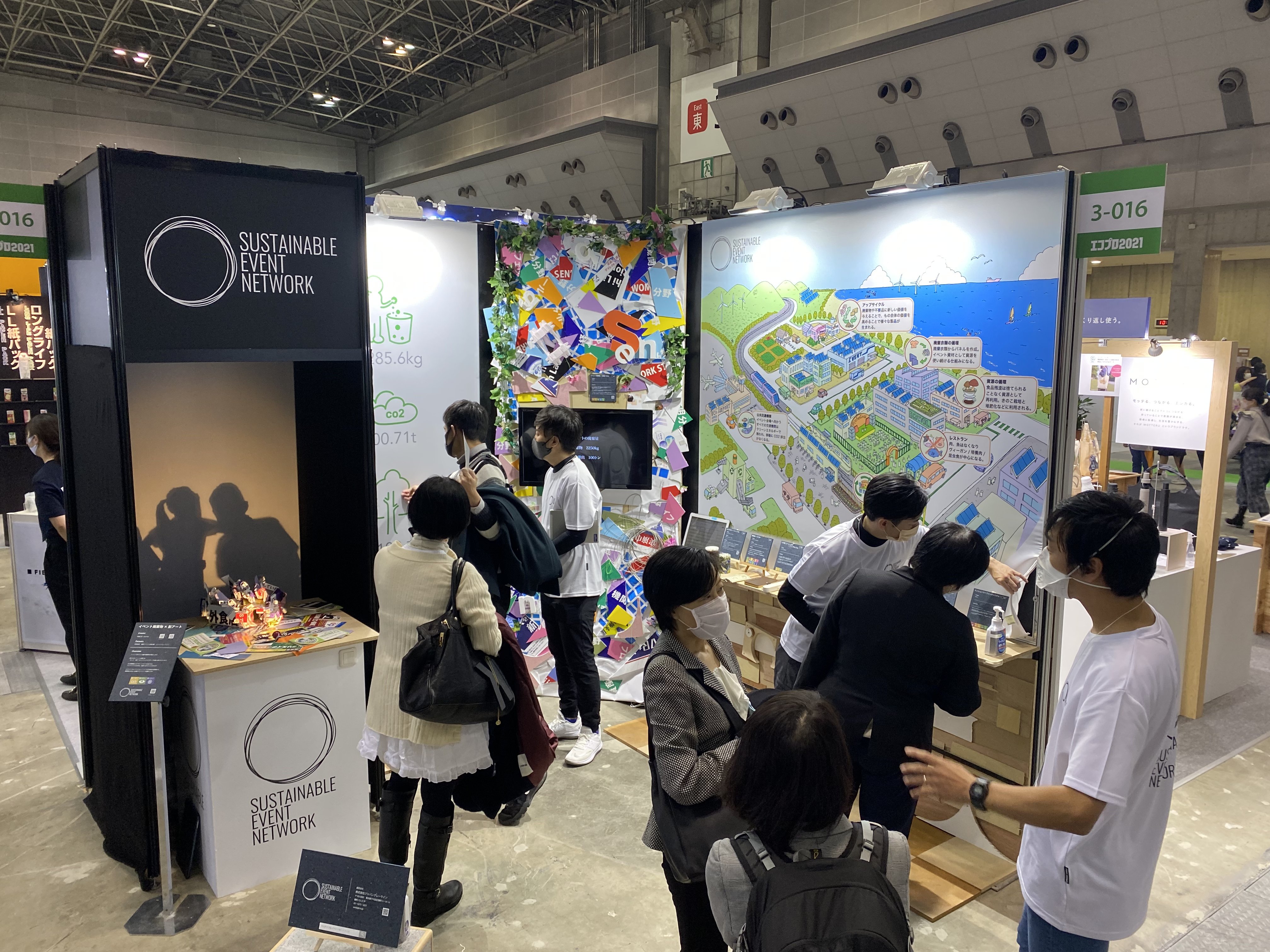 However, if the organizers want to appeal to visitors with a design, they can use combined panels made from old wood as flooring, which can be incorporated in different styles.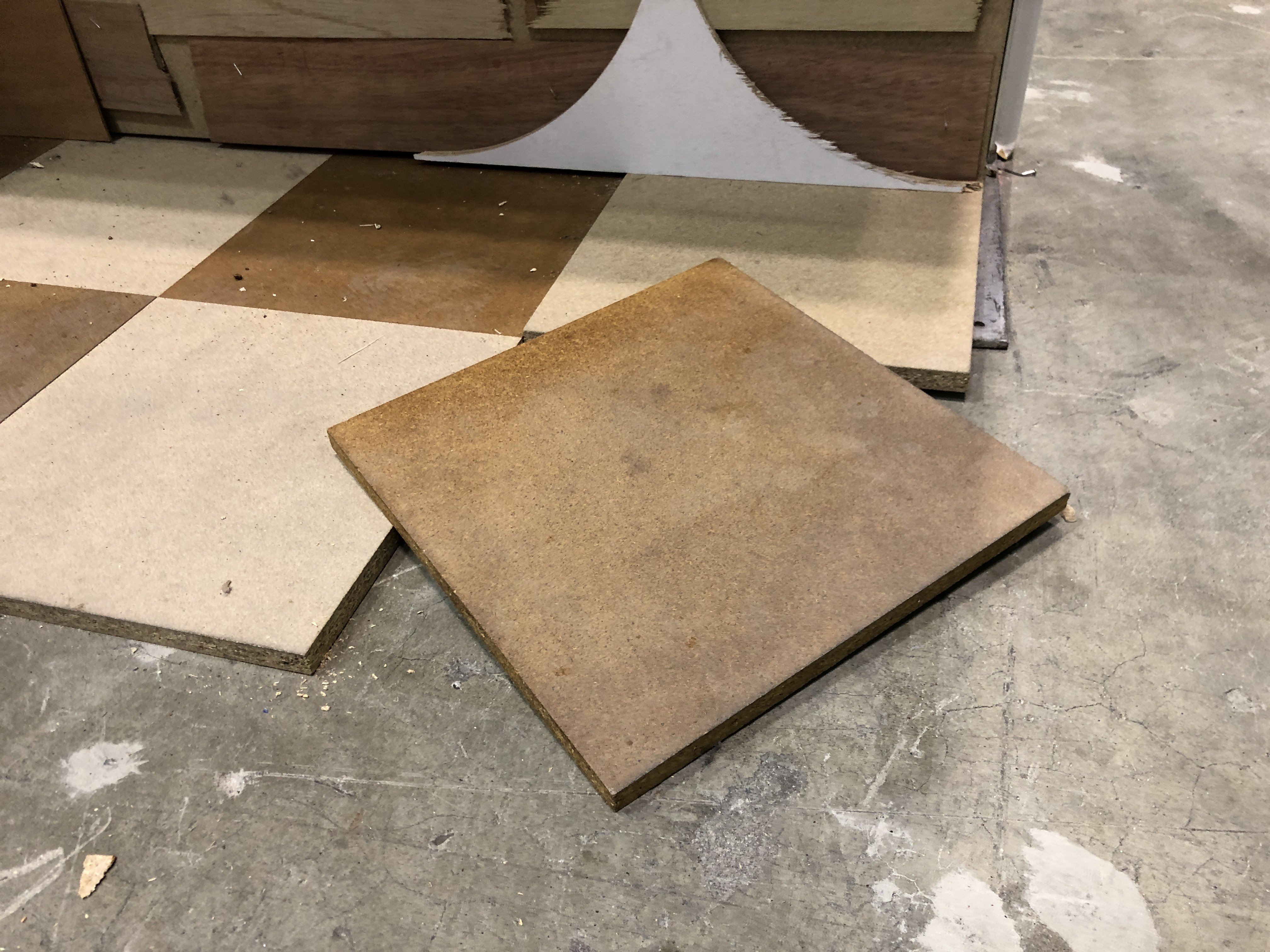 After use, the floor panels can be disassembled and reused at the next event. If they show signs of wear and tear, they can be washed, or the wood surface can be shaved as a step towards eliminating waste.
We adopted tension fabric as an alternative to wall the panels often used for exhibition booths. Wall panels usually used are made of wood, and paper prints are glued onto them. After use, the paper is peeled off. Although the panels are stored for reuse when possible, specially shaped panels are often disposed of by thermal incineration, leading to high CO2 emissions. In addition, the wood panels themselves are heavy and require transport costs. Moreover, only artisans with special skills can create them. So, in our booth in EcoPro 2021, we used tension fabric, which is made without producing any waste.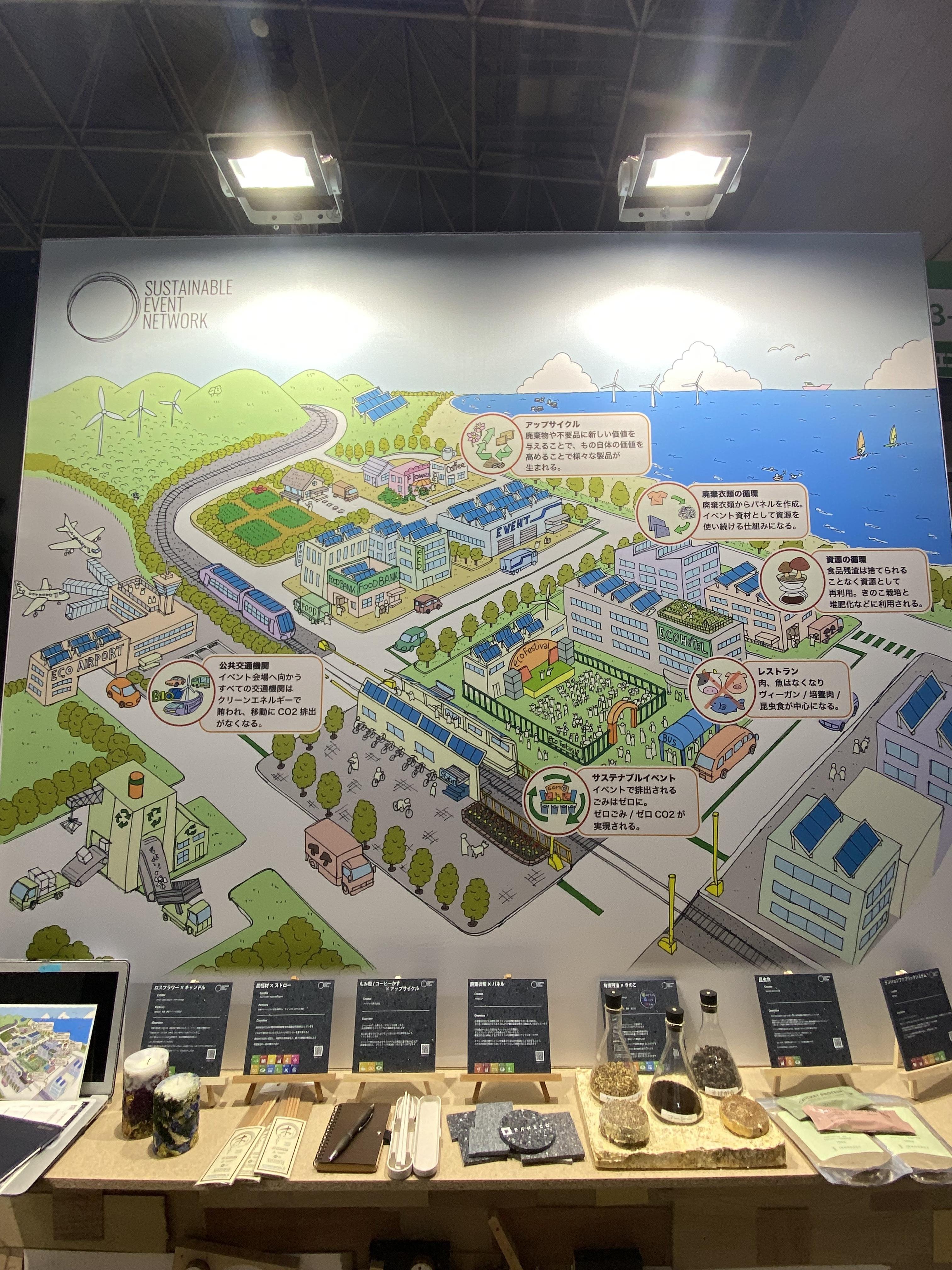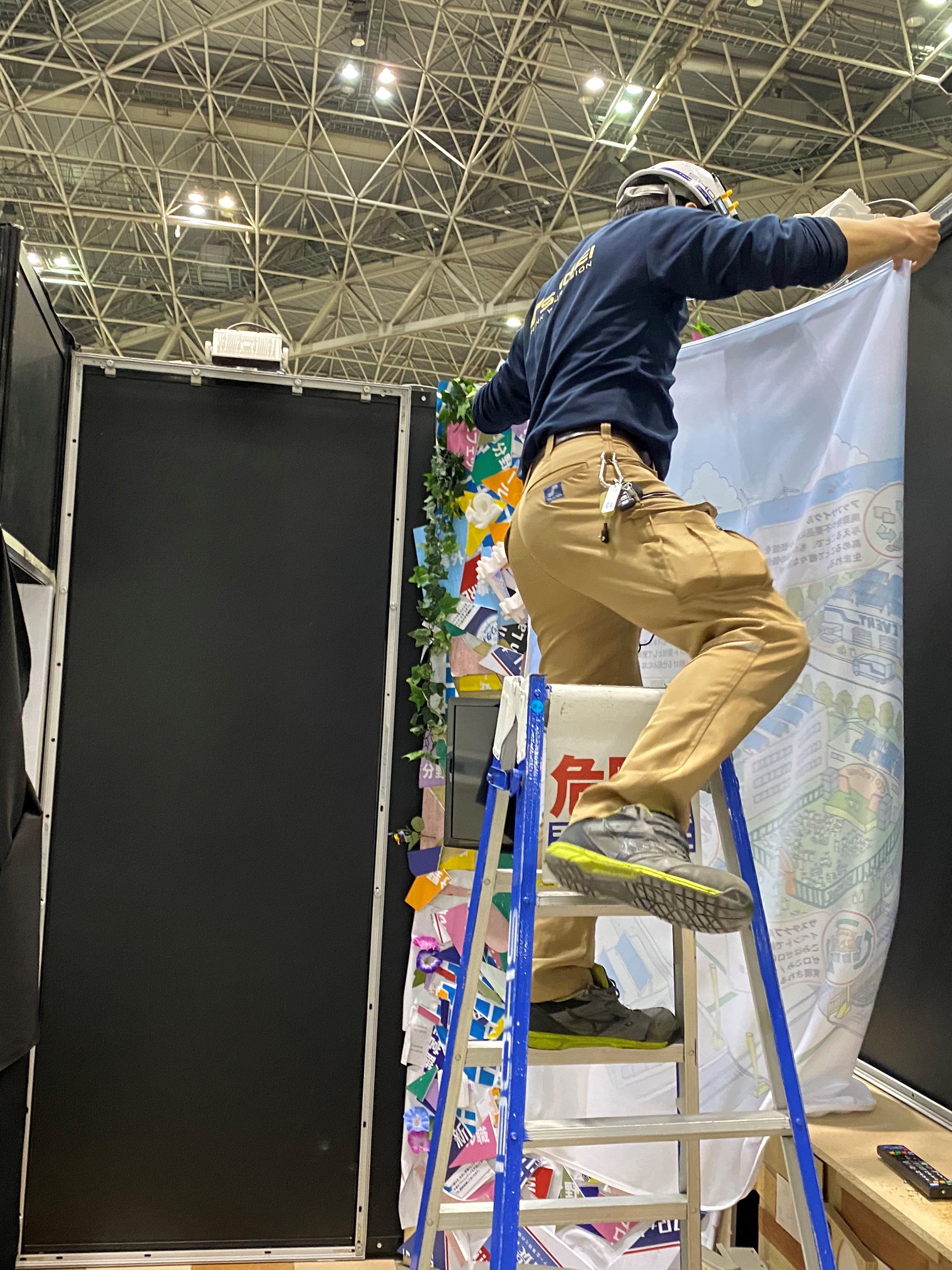 One of the significant advantages of tension fabric is that the design is printed on the material, which can be reused many times. It is also lightweight and can be carried by a single person, even for large graphics, which means it is cost-effective to transport and store. It can be installed in five minutes by anyone familiar with it, as it is fitted onto a frame, which significantly reduces set-up time. The CO2 emissions are reduced to one-fifth in comparison to conventional methods. When the fabric is no longer needed, it can be recycled back into fiber, as the fabric itself is renewable. Tension fabrics are beginning to find their way into the market as a new way of exhibiting, combining cost reductions, convenience, and sustainability.
- Japan's first "Growing Pavilion" (an exhibition booth that changes its shape during the event)
We thought about using the large amount of wood waste generated during booth construction and the large quantity of coffee grounds from the coffee consumed at events. No new wood or plastic panels are used, so there are no CO2 emissions.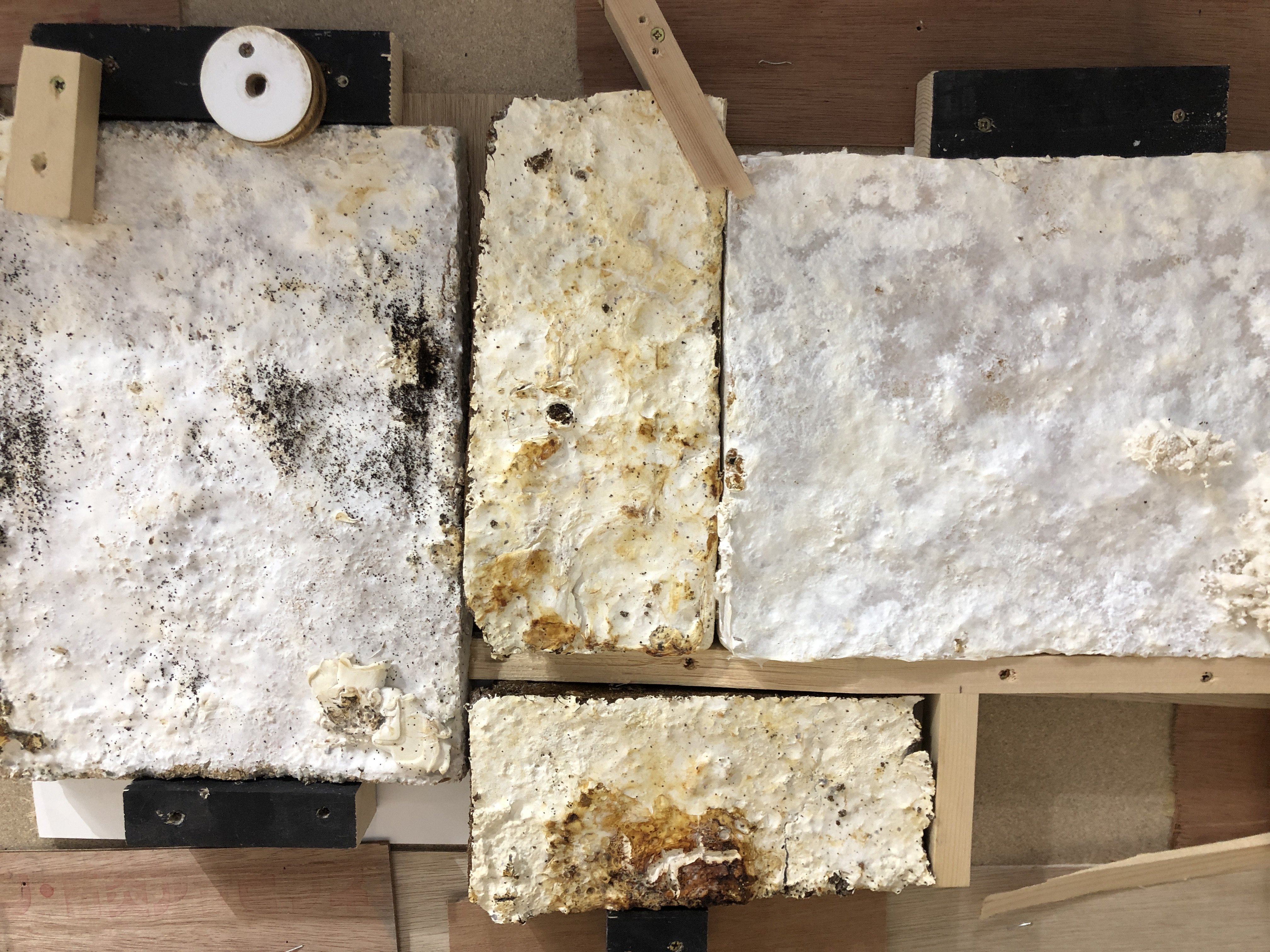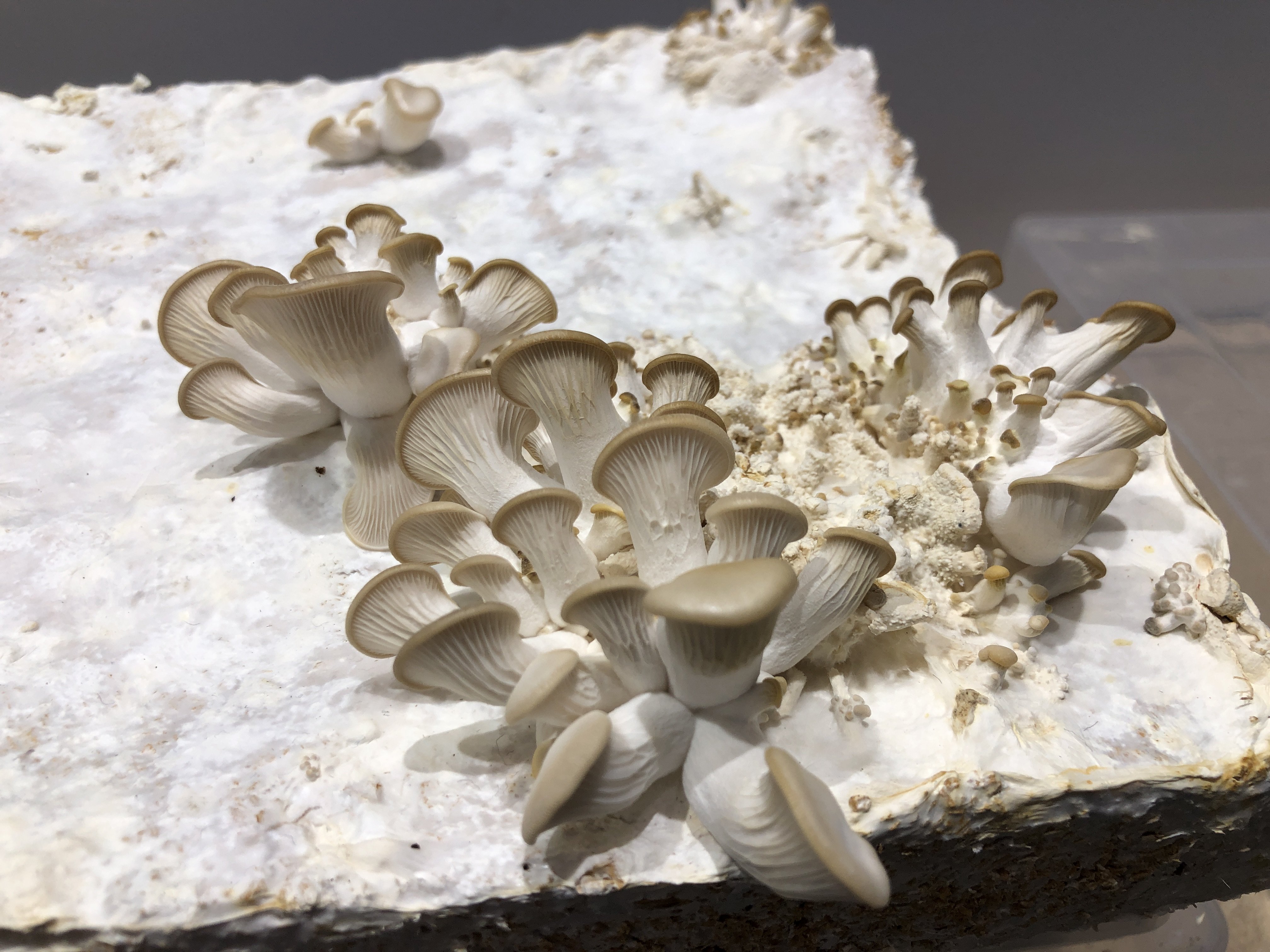 Left: block formed from coffee grounds, Right: the block on Day 3
In the future, this waste can be made into blocks like and can be used as a material for various exhibitions. Furthermore, since these are biodegradable materials, it is also possible to develop an eco-system that will create a cycle, for example, by working with farmers to grow vegetables from the compost of these materials and to use in the preparation of food for the next event.
- Shadow art using waste materials
Based on the concept of "creating a sustainable future by shining a spotlight on what is wasted," we created a shadow art exhibition to raise awareness of the quantity of discarded materials, especially paper distributed at events. The goal was to communicate the sheer volume of waste generated by events and the need to dispose of paper materials once they have been used. This artwork will be stored for reuse at future events and displayed as the artists' artworks in a solo exhibition.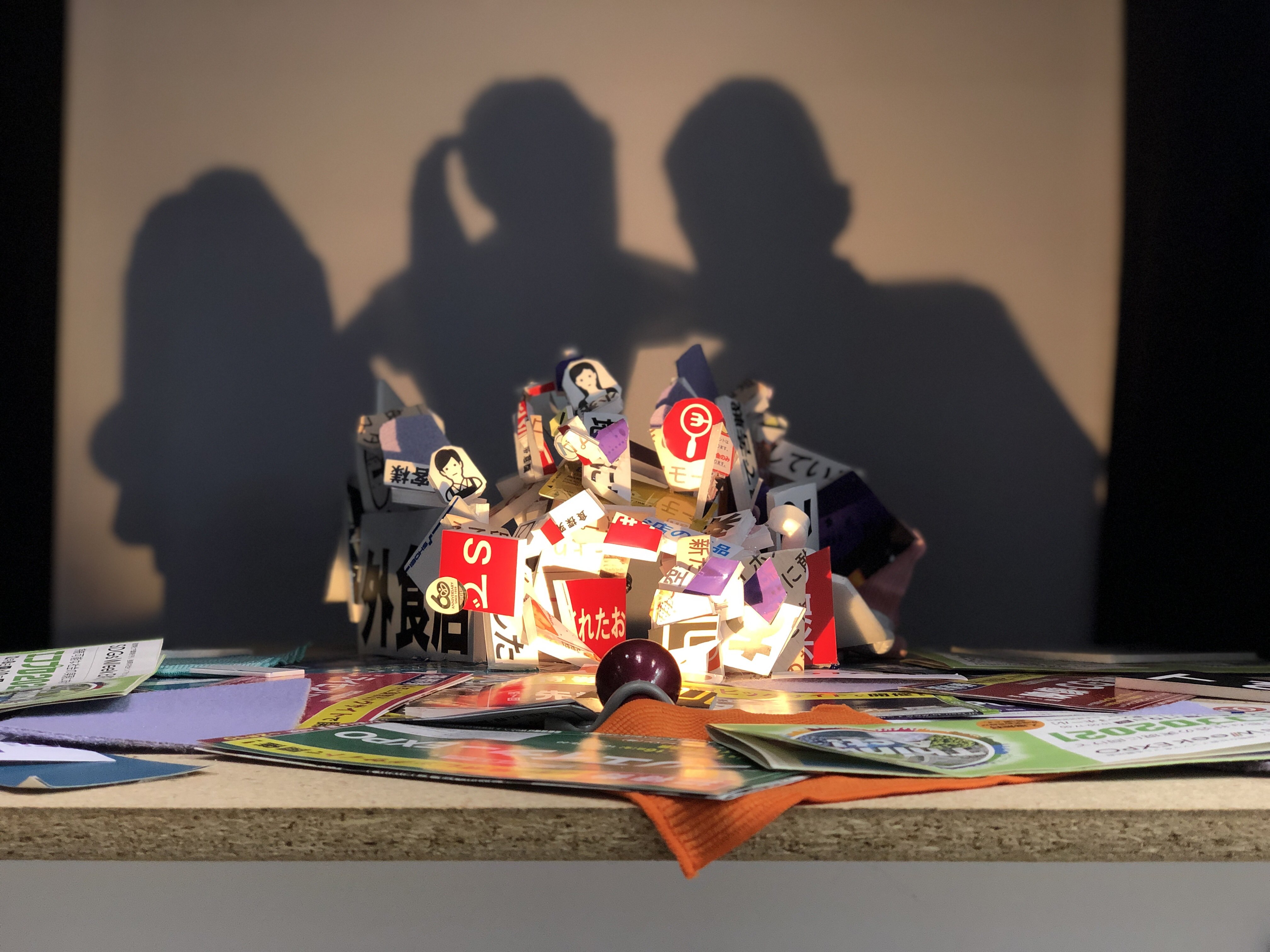 As a result of the above efforts, we at SEN have achieved zero waste at EcoPro.
-  What advice can you provide to MICE organizers and suppliers going forward?
In the future, the sustainability of events will become increasingly important. Some companies are now already including sustainable practices in their criteria for selecting suppliers.
However, we often hear organizers say they do not know where to start because it is currently very unclear what actions mean sustainability. We at SEN quantify the environmental impact of an event in terms of the amount of waste and the amount of CO2 emissions, making it possible to visualize in numerical terms "the current status," set targets, and measure the results of improvements.
We have also created a "Sustainable Event Package" to make it easier for MICE organizers to implement sustainable practices. It is a tool that supports the organizing of sustainable events by providing total consulting services for quantification, venue selection, planning, supplier selection, participant communication, implementation, and reporting. We look forward to working with organizers to develop sustainable events based on the SEN platform.
Business Events Tokyo will continue to introduce initiatives on sustainable MICE to guarantee that Tokyo is the ideal city to hold your next event.