The Tokyo Unique Venues Showcase Event 2023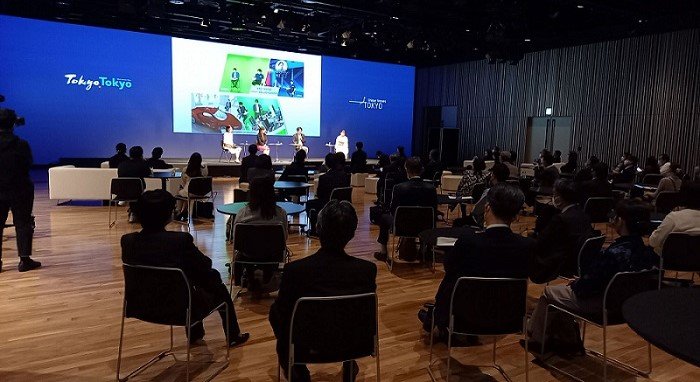 On February 22 Tokyo Convention & Visitors Bureau (TCVB) welcomed in-person participants to an experiential event showcasing opportunities for holding unforgettable events in Tokyo's waterfront area.
Collaborating with DMO SHIBA, Tokyo Bay, and Tokyo Metropolitan Park Association, the event introduced the Tokyo waterfront area's facilities and brilliantly showcased a unique plan to combine the traditional Japanese garden, Hama-rikyu Gardens, with the cutting-edge technology of Tokyo Portcity Takeshiba, connecting the two venues by water bus.
Hospitality with Tokyo Products at the Port Hall of Tokyo Portcity Takeshiba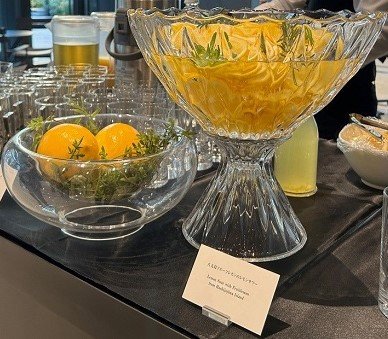 Participants were warmly welcomed to the Port Hall with beverages prepared from Hachijojima island's fruit lemons and a Hachijojima perennial herb called ashitaba. Hachijojima is one of Tokyo's eleven islands and has close ties with the Takeshiba area.
Exhibition area and augmented reality technology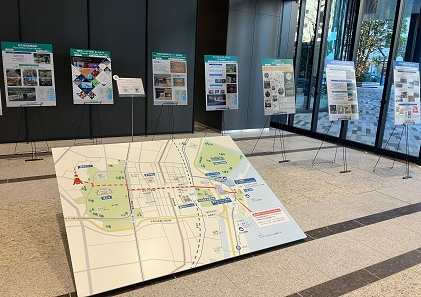 In the foyer, used as the exhibition area, participants could explore the map conveying accessibility and observe panels introducing neighborhood venues and accommodation in detail. 

Augmented reality (AR) technology was also on display.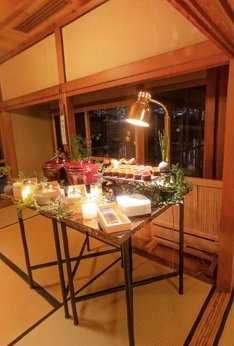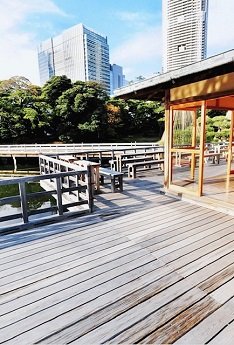 Through a virtual door on the device screen, participants could "walk" as if they were going inside and discover the stunning 360-degree virtual Hama-rikyu Gardens bathed in sunlight as if on a sunny day. Other images included the views from the wooden deck and a standing reception, available in Nakajima-no-ochaya.
Cutting-edge area developments and a rich history dating back to the Edo period
The program's centerpiece comprised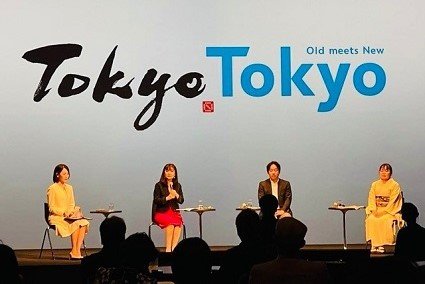 a talk event with three prominent speakers: Honorary Chair of the MPI Japan Chapter, Makiko Yamamoto, Chief of the Secretariat of DMO SHIBA, Tokyo Bay, Atsunori Tanaka and Executive Manager of Tokyo Metropolitan Park Association Izumi Matsuura.
The speakers presented the history of the waterfront area and its constant development in line with the "Tokyo Bay eSG Project" - envisioning a city 50 to 100 years into the future, aiming to create a sustainable city that fuses nature and convenience through efforts such as making full use of cutting-edge technologies while maintaining harmony with the environment. 
DMO SHIBA, Tokyo Bay, which provides wide-ranging support to foster successful business events in the area in cooperation with more than 60 local members, introduced flexible styles of implementing business events in its conference facilities and presented unique venues, including Zojoji Temple and the iconic Tokyo Tower, all allocated within a radius of 1km.
The presentation highlighted cutting-edge developments, including digital transformation efforts, augmented reality, the wide use of robots, and proactive efforts to address SDGs to realize a decarbonized society.
Tokyo Metropolitan Park Association emphasized that gardens are indispensable for hosting business events in this area, providing
a unique perspective of "history, tradition, and cultural value." Hama-rikyu Gardens is one such garden, available for rent after 5pm. Dating back to the Edo period, there is carefully preserved tea-houses and a famous 300-year pine tree.
Japanese-style party and attractions in an atmospheric twilight setting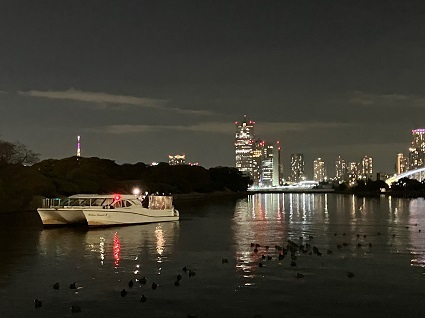 Next, participants experienced the Hama-rikyu Gardens for themselves, but even the journey there was special. Starting from the ferry dock, WATERS takeshiba, participants boarded a water bus, a mid-sized vessel for about 50 people specially organized for this occasion. During the 10-minute ride, participants enjoyed the beautiful night view of Tokyo with the TOKYO SKYTREE® glittering in the distance.

After disembarking at Hama-rikyu Gardens, the path lit with LED lanterns, participants were guided to the beautifully illuminated Nakajima-no-ochaya, a charming teahouse situated on a tidal pond.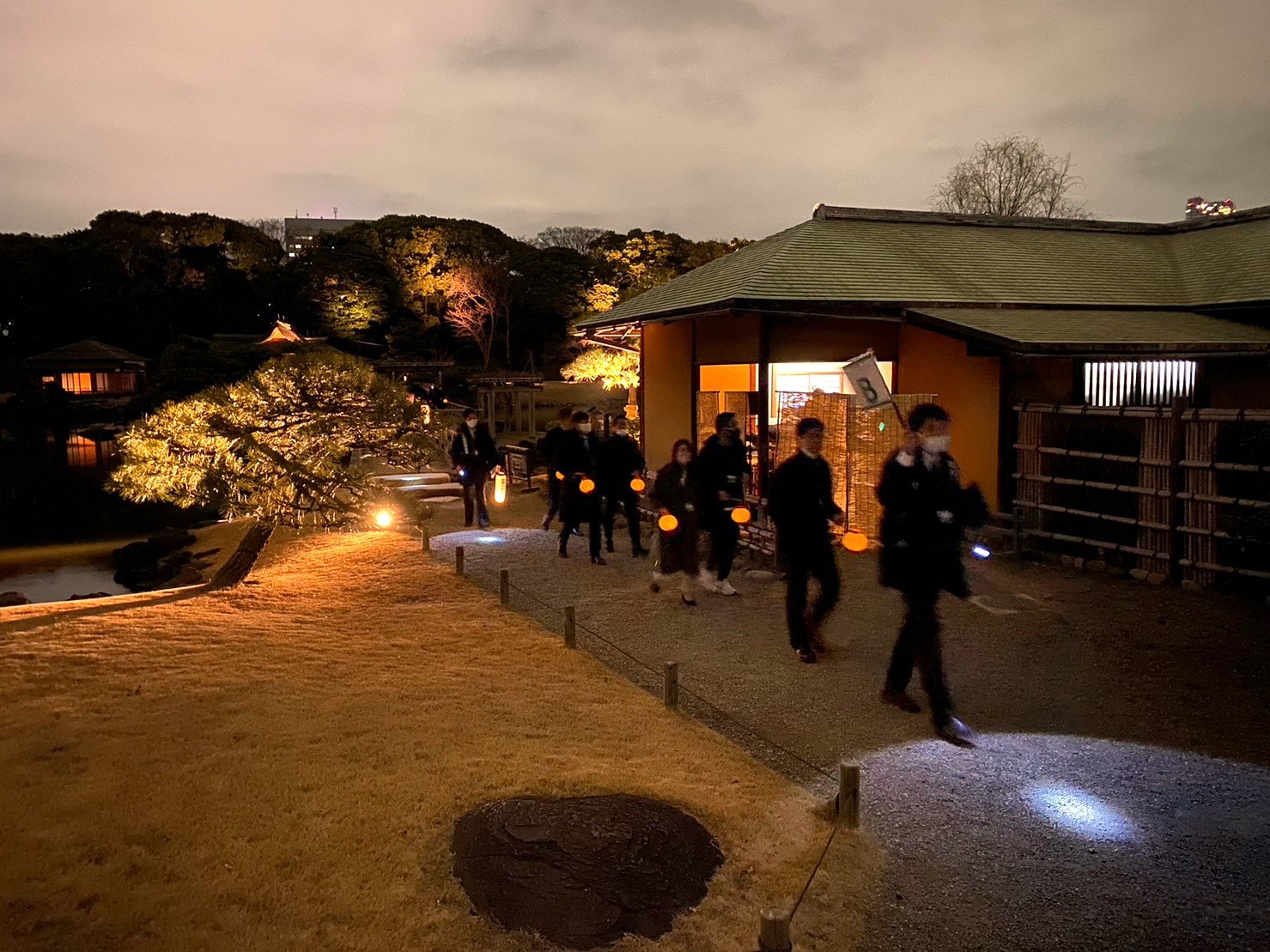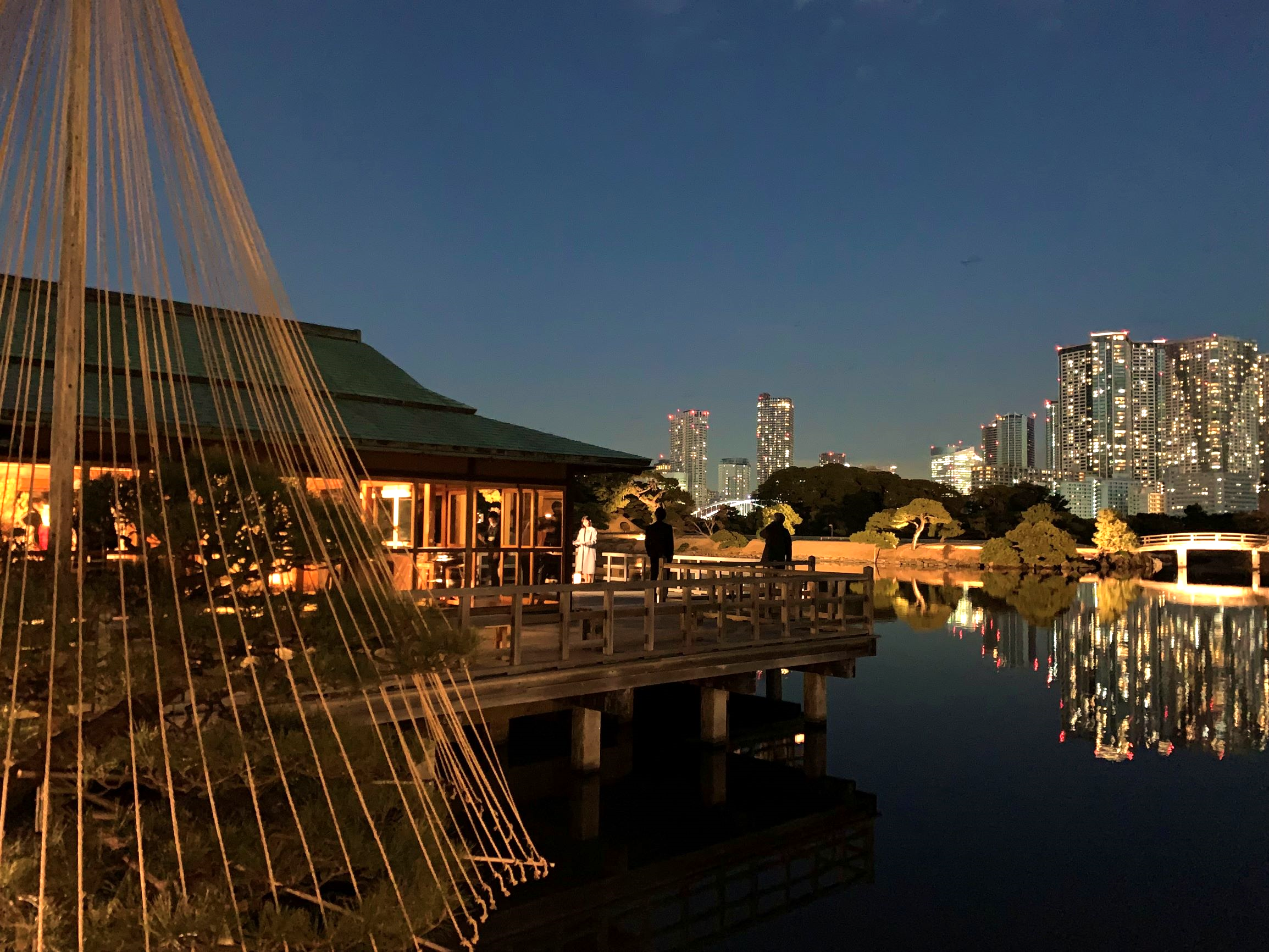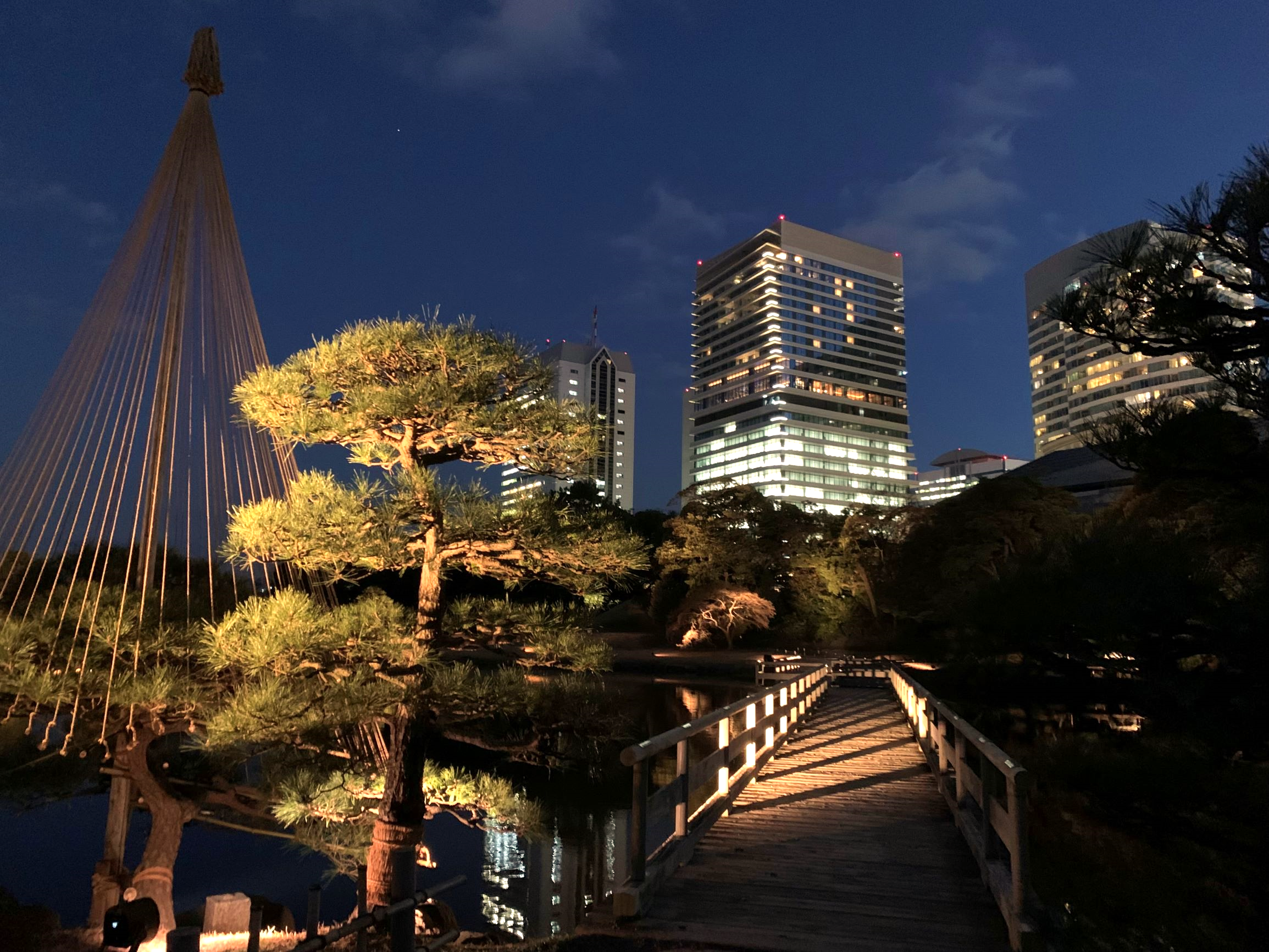 A cocktail party was specially prepared by members of Shiba Centennial Society, a group of long-established businesses, including restaurants in the Shiba area with nearly 200 years of history. Highlights of the menu cooked with colorful locally sourced ingredients included steamed Tokyo Bay sea bass, and Edo Tokyo vegetable pintxos served on reusable Japanese tableware.
Beverages included sustainable sake- Edo Kaijo Junmai Ginjo Genshu. By using Yamada-Nishiki rice that does not need washing, water was reduced by 90%.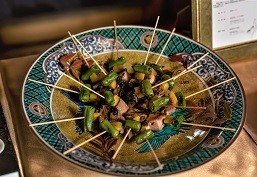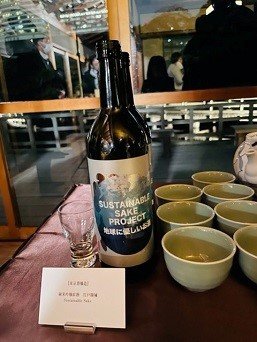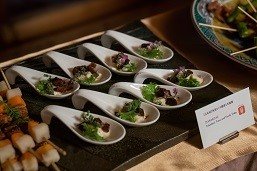 The main attraction, a stunning ikebana (flower arrangement) performance, was presented by the Teikoku Kadoin Association- an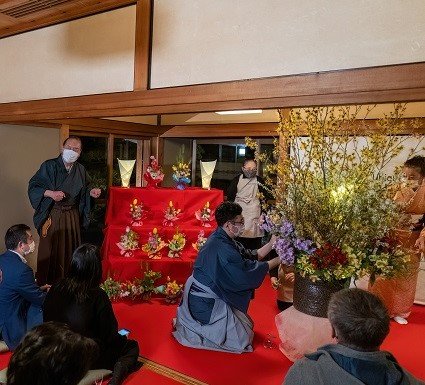 ikebana academy endeavoring to develop and spread the culture of ikebana.
The theme was Girls' Festival (Hinamatsuri), celebrated on March 3 each year -a traditional spring event during which beautiful dolls are displayed on a platform to wish for the health of girls. In the performance, the dolls were uniquely represented by small-sized ikebanas made of seasonal flowers, including tulips and sweet peas. 
The centerpiece ikebana created by meister Rishun Muto was beautiful and exuded the splendid fragrance of seasonal flowers, symbolizing the coming of spring.
After a refreshing return journey from Hama-rikyu Gardens to the Takeshiba area, a lively networking event took place at SHAKOBA,
a theater-type community space. At the end of the showcase program, all participants received an original Japanese confection present, dorayaki, with original print "DMO SHIBA, Tokyo Bay."
Tokyo has many fascinating, unique venues that organizers can choose from. TCVB will continue introducing new, attractive, and sustainable styles of business events to organizers and planners seeking to hold their next memorable event in Tokyo.
About the venues
Hama-rikyu Gardens, one of Tokyo's oldest gardens dating back to the Edo period (1603-1868), was built to serve as a feudal lord's residence. The Gardens, overlooking the Tokyo Bay, have an impressive central tidal pond connected to seawater. Walk through the greenery and enjoy a stunningly colorful view of various plants contrasted with the skyscrapers of the Tokyo skyline.
Tokyo Portcity Takeshiba, a large-scale complex, was opened in September 2020. In proactive efforts to address SDGs aiming to realize a decarbonized society,
the electricity used in the Port Hall during an event is renewably sourced, making it possible to reduce the CO2 emitted during power generation to practically zero under the "CO2 Zero MICE" initiative.