City-Tech.Tokyo:Technical Tours Showcasing Tokyo's Futuristic Approach to Urban Development
The City-Tech.Tokyo conference was held at the Tokyo International Forum from February 27 to 28, 2023, to great success. This conference is dedicated to making a "sustainable society through open innovation with startups," and this time, explored this concept through the four themes "infrastructure," "environment," "living," and "culture." The event was held in a hybrid format and attracted a total of 26,000 delegates and various speakers, including Japan's most famous architect Kengo Kuma and the governor of Tokyo.
Tokyo Convention & Visitors Bureau (TCVB) provided in-kind half-day technical tours of Tokyo for foreign delegates, in line with the conference's content, maximizing educational opportunities for participants and showcasing Tokyo's futuristic approach to urban development. Below we introduce two of the highlights.
Technical Tour on Hydrogen Boat "Hydro Bingo"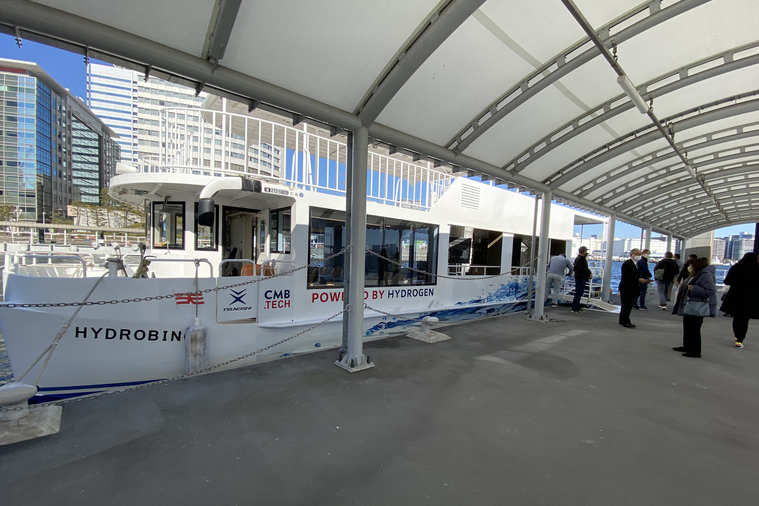 On February 28, participants of City-Tech.Tokyo had an exceptional opportunity to join the technical tour on the unique hydrogen-powered boat Hydro Bingo, which uses H2 as fuel for propulsion. This is the world's first passenger ferry of its kind.
Hydro Bingo is a 19.4m long aluminum alloy catamaran type equipped with two dual-fuel engines utilizing diesel and hydrogen. It can accommodate 80 passengers and can cruise at a maximum speed of 26.0 knots.
This eco-ship was developed by Tsuneishi Facilities&Craft Co.Ltd. in Hiroshima Prefecture jointly with the Belgian shipowner Compagnie Maritime Belge (CMB.TECH), which has extensive know-how in marine hydrogen systems aim to decarbonize ships. The ferry is currently operated by a start-up company named JPNH2YDRO Co., LTD. The ship's name refers to" Hydro," the Greek word for water, and "Bingo," the former region comprising the eastern part of Hiroshima Prefecture today.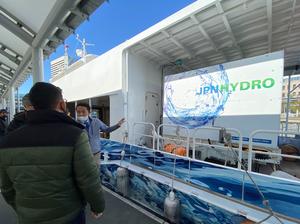 An amazing tour started from Hinode Pier with JPNH2YDRO's explanation about the boat's safety. The hydrogen storage tank is located on the stern (the back part of the boat) and equipped with H2 gas detectors. There is also a thick wall between the tank and passenger cabin to secure extra protection for travelers. Japan Craft Inspection Organization approves the safety of the ship.

The H2 injection system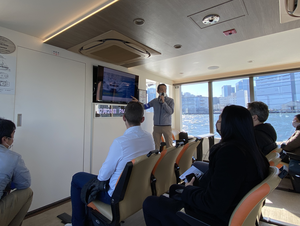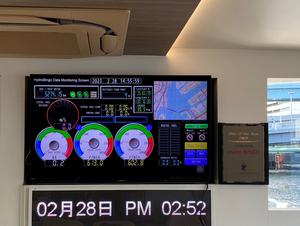 requires minimal changes to the base engine. It was highlighted that Hydro Bingo drastically cuts CO₂ emissions by up to 50% during navigation using a mixture of diesel/hydrogen fuels compared to conventional diesel engines. Test results related to CO₂ emission reduction were displayed on the monitoring screen. Participants could also see on the monitor the bars of diesel fuel and hydrogen ratio beside usual indicators of engine speed, the distance from the port, and other data. It was stressed that the H2 dual fuel system is designed to control and allow automatic switch back over to diesel-only operation, ensuring the machine's operational reliability in case of any problem. Participants were also very impressed that hydrogen supply was much easier to implement than they expected.
After the explanation, participants enjoyed guided views of the Rainbow bridge, Odaiba seaside area, Tokyo International Cruise Terminal, the Olympic and Paralympic village, and other spots from the upper open deck. Tokyo weather welcomed all travelers with an exceptionally warm and sunny day. All participants highly evaluated the rare content of the technical tour where they could experience the future of boats.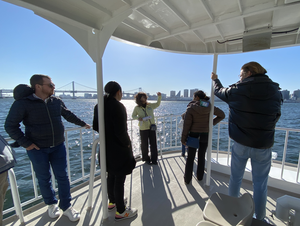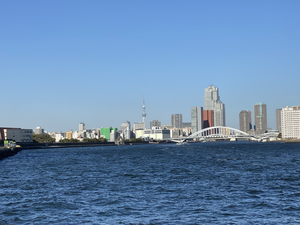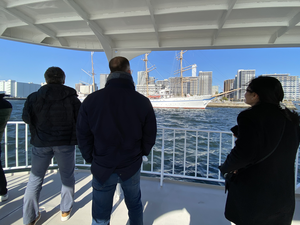 Digital Technology the Future of Offices: Mori Building and CIC Tokyo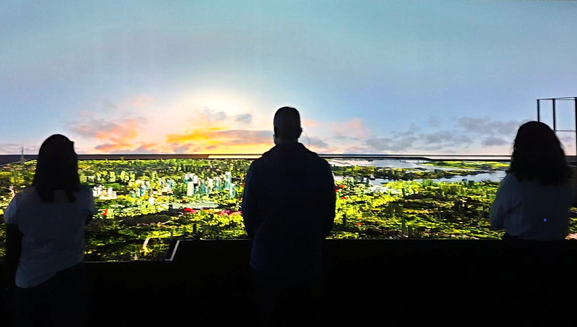 On March 1, delegates had the exclusive chance to visit the exciting Mori Building Urban Lab, normally closed to the public, to gain a bird's eye view of Tokyo through an immersive digital experience and gain new perspectives. This was followed by a trip to ARCH, an incubation facility for large corporations to create new businesses, and one of Tokyo's cutting-edge shared offices for start-ups known as CIC Tokyo, a space of endless innovation.
Mori Building Urban Lab
Winner of the internationally renowned Cannes Lions: Bronze Award in digital craft at the International Festival of creativity 2020/2021, Mori Building Urban Lab is a research facility that combines models depicting Tokyo with the latest technology to provide an unparalleled view of the city and a multifaceted perspective on Tokyo and its future. The model of Tokyo is faithfully reproduced on a 1/1000 scale, and there are also models of Shanghai and New York for comparison to gain a deeper understanding of these cities' characteristics and challenges. The Tokyo model is equipped with 30 projectors and digital mapping technology for vibrant explanations of Tokyo for visitors to learn about the city together.
The word "Welcome," appearing in the center of the screen in the dark, was the beginning of the highly immersive experience which made full use of the model, digital technology and music. Everything about Tokyo, including its changing coastline, districts, green spaces, roads, unique metro network, and more, was displayed, all in a whirlwind of color and dazzling real-time visuals in this educational experience sure to impress anyone. Mori Building also presented various projects to improve Tokyo as a global city and discussed their philosophy regarding urban development. They even touched on earthquake resistance buildings and countermeasures. All delegates received a factbook of two of Mori Building's most notable projects, Toranomon Hills and the Toranomon-Azabudai Project.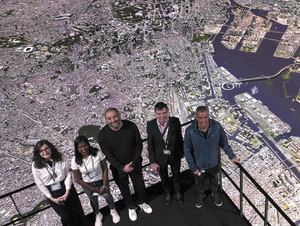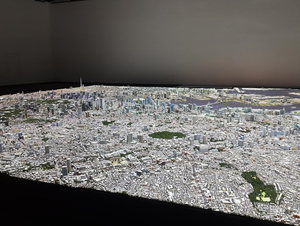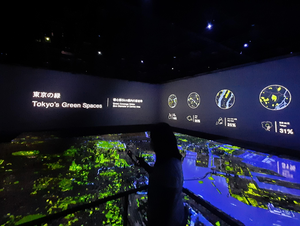 Toranomon Hills Business Tower, CIC Tokyo, ARCH, Toranomon Yokocho
Next, the trip moved to Toranomon, where delegates had a tour of the cutting-edge Toranomon Hills Business Tower, also managed by Mori Building. Toranomon Hills Business Tower, houses ARCH, an incubation center for about 120 new businesses from large corporations and CIC Tokyo, one of the city's leading shared offices, which opened in October 2020 and has over 250 members consisted mainly of startups but also large corporations and local governments. This innovation center has bilingual staff, conference rooms, wellness areas, sports rooms, and cafes, providing the perfect environment for those working there. Participants were extremely impressed with this cutting-edge shared office. To finish, participants paid a visit to Toranomon Yokocho, located in the same building, which has 26 famous Japanese restaurants lined up like traditional outdoor food stalls, all on one floor.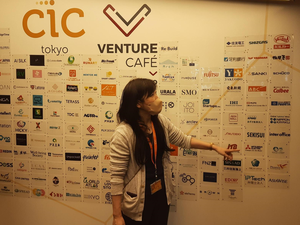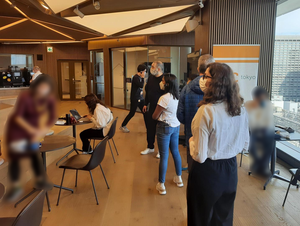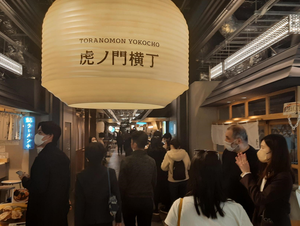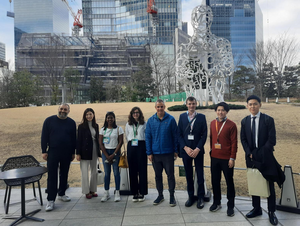 This educational site visit was the perfect accompaniment to the City-Tech. Tokyo Conference providing delegates with a glimpse of what city development might look like in coming years.
Business Events Tokyo will continue to offer international conference participants the chance to learn about Tokyo's cutting-edge developments through technical tours.