Population and Geography
Population of Tokyo:

14.019 million (November 1, 2021, Tokyo Metropolitan Government)

Geography and Area:

Tokyo, covering 2,193.96 square kilometers, is located in the center of the Japanese archipelago in Eastern Asia, facing the Pacific Ocean. The Tama and Sumida rivers flow through Japan's capital city, with the Greater Tokyo region drained by five rivers. Major mountains include Mt. Mitake, Kumotori, Mihara and Takao.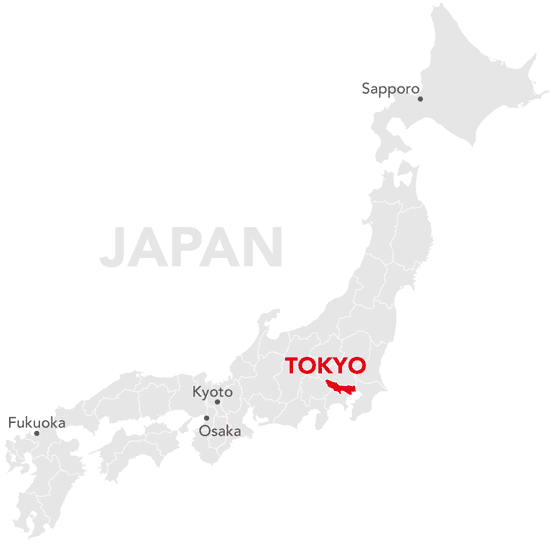 Time Zone
+9 hours (GMT) (+14 hours from EST and +17 hours from PST). Tokyo does not observe daylight savings time.
Language
The official language of Japan is Japanese. English is spoken widely in Tokyo. Most people involved with the travel industry speak English.
Best Times of the Year To Visit Tokyo
Popular seasons to visit Tokyo are spring, from March to May, and autumn, from September through November. Cherry blossoms bloom from the end of March to the beginning of April, and the leaves change color from mid to late November. The rainy season lasts from early June to mid-July.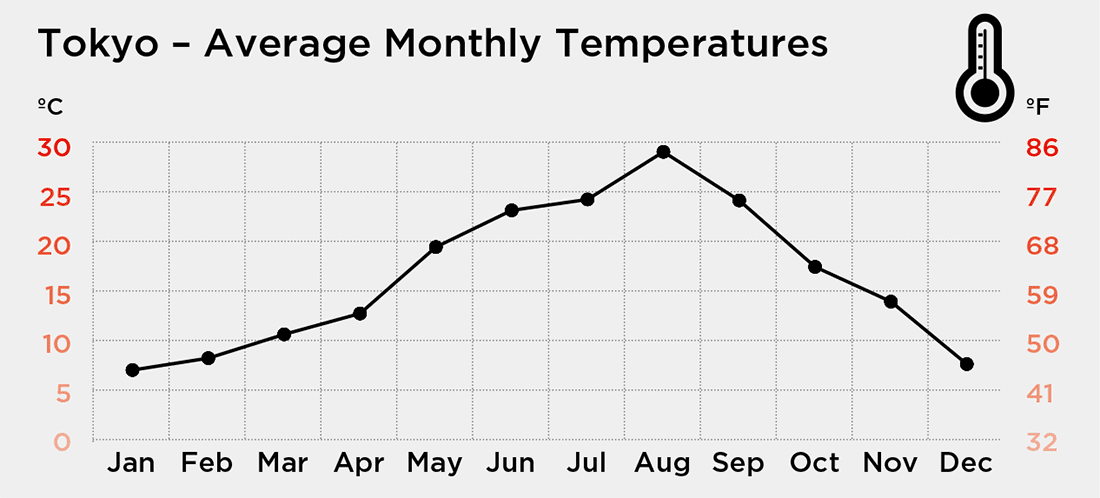 Public Holidays (2022 - 2023)
From December 29 to January 3 (Year-end to New Year's), late April to early May (Golden Week), and around August 13-15 (Obon holidays) are extended holiday periods, which means many Japanese people travel inside Japan and overseas.
Currency
The Japanese yen (¥) is the official currency, coming in denominations of 10, 000, 5, 000, 2,000 and 1, 000 yen bills, as well as 500, 100, 50, 10, 5 and 1 yen coins.
Tax
The consumption tax rate is 10% excluding items subject to the reduced tax rate. The reduced tax rate of 8% is applied to sales of food and beverages, except for alcoholic drinks, catering and dining out.
Tipping
It is not necessary to tip for service in Japan, such as at restaurants, bars, taxis, airports and hotels. However, hotels and some restaurants indicate an additional service charge on their bills or menus, respectively.
Business Hours
Banks - 9:00 - 15:00. Closed Sat, Sun and holidays.
Post offices - 9:00 - 17:00. Closed Sat, Sun and holidays.
Retail stores - 10:00 - 20:00. Usually also open Sat, Sun and holidays.
Electricity
Voltage - 100V AC Electrical Current - 50Hz (Tokyo and Eastern Japan). 60Hz (Kyoto, Osaka and rest of Western Japan)
Sockets - Standard flat two-pin.
Visa
Verify with your local embassy or consulate. Residents of 68 countries and regions do not require visas for short-term stays (2021, Ministry of Foreign Affairs).