The Yumenoshima Park Archery Field Welcomed the SHINYAKOZUKA Runway Show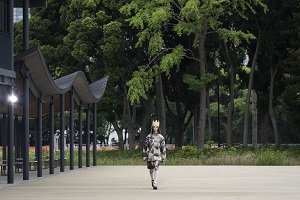 Commemorating the legacy of the Tokyo 2020 Olympic and Paralympic Games held a year ago, the Yumenoshima Park Archery Field, which was a venue for archery qualifying grounds, welcomed Shinya Kozuka's fashion brand, "SHINYAKOZUKA" runway show "ISSUE #2" for the Spring/Summer 2023 collection. Various hues and tones of green were used extensively throughout, giving it a natural feel.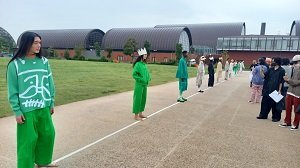 This sports venue's well-maintained open space was perfect for the show, where even barefoot models could make an appearance safely.
About 130 invited buyers and media representatives watched Kozuka's fantastic creations with great excitement in this spacious venue full of greenery.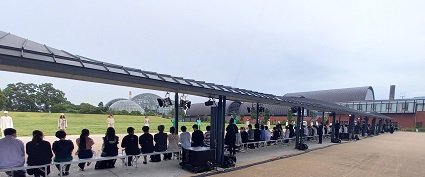 Tokyo has many fascinating, unique venues that organizers can choose from. The Tokyo Convention & Visitors Bureau will continue introducing new and attractive event formats to organizers and planners seeking to hold their next event in Tokyo.
For more information about Yumenoshima Park Archery Field, please visit here.